How Long Does It Take Us to Ship a Package?
We always try to ship orders as quickly as possible. However, we prioritize expedited* orders. We ship most in-stock orders on the same day. However we reserve the right to take up to 1 week to process your order. Slower order processing occurs sometimes when items are back-ordered, or there are other unexpected inbound shipping delays.
Expedited Orders:
*Expedited orders are considered to be any order with 3 day, 2 day, 1 day or Internatial Priority shipping methods.
We offer same-day shipping for all expedited* orders placed before 2pm PST (-8hrs GMT). As long as the the item listing states that there is a large enough quantity available for same-day shipping, then you can reasonably expect your order to definitely ship that day. Payment must have been completed by 2pm PST for us to guarantee same-day shipping. If it is after 2pm or you have special handling requests (i.e. need Saturday delivery or have "blind drop-ship" requests), please e-mail / call us and express your urgency. We will do our very best to help you!
Ground Orders:
Ground orders are considered to be any order with domestic ground, international ground or international economy shipping methods.
We ship most in-stock orders on the same day. However, our commitment is to ship ground orders within 48 hours of your order being placed (assuming items are in stock). If it is critical that a ground order be processed quickly, please e-mail us. We will try to accomodate you. We recommend that you order with expedited shipping if delivery time is important to you.
When will my order arrive via FedEx Ground?
If the item is in stock and available for shipping today (see item page for stock levels), and you select FedEx Ground or Home Delivery as your shipping method, please view the chart below to determine how many days your order is expected to take to be delivered.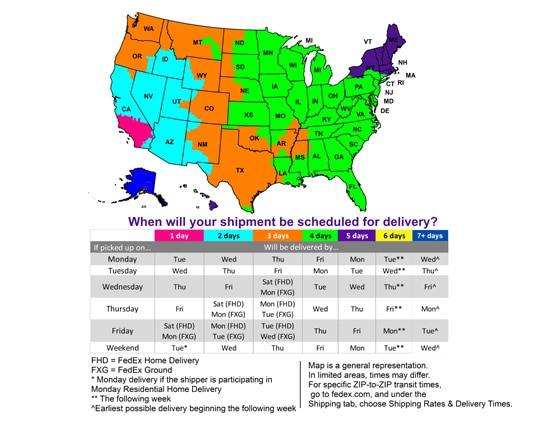 Time frames are mostly accurate, but not guaranteed. If you live near the edge of a zone you should go to Fedex.com to determine your delivery time by ZIP code. Most items originate in San Diego (92103), however, some items may ship from elsewhere.